12-05-2012, 12:35 AM
ok sure
Wazzy and Moose using cute girl avatars now... Seems real legit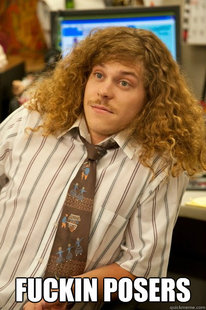 ---
12-05-2012, 01:07 AM
(This post was last modified: 12-05-2012 01:09 AM by Ivef.)
Ivef


Secretly an Owner


Joined: Aug 2012
SteamID: STEAM_0:0:44218648

RE: ok sure
They're not the only ones.
The irony, it burns!
---
12-05-2012, 08:05 PM
RE: ok sure
They are old fags, they can do what they want. You are a new fag, you must be criticized and hated for a few years
---
#FreshToDeath
Creator Of META (Masturbating Ethiopian Terrorist Association)
(02-05-2013 12:49 AM)

Drakehawke Wrote: "No-one cares" about leaving threads only when it's some shitty user who isn't even a mod, a long-standing superadmin leaving is worthy of a thread
12-05-2012, 08:10 PM
(This post was last modified: 12-05-2012 08:13 PM by Residualgrub.)
Residualgrub


503 Service Unavailable


Joined: Jan 2012
SteamID: STEAM_0:1:32676154

RE: ok sure
Ya, and im now a pony. whats it to ya.
---
12-05-2012, 08:18 PM
John Nukette


The Loaf


Joined: Dec 2011
SteamID: STEAM_0:0:20360334

RE: ok sure
Fagets everwhur
---
"I would rather be seen as a crazy eccentric who stands up for what he believes in, than as a mindless sheep who stands for nothing but consumerism and conformity."
12-05-2012, 08:22 PM
Residualgrub


503 Service Unavailable


Joined: Jan 2012
SteamID: STEAM_0:1:32676154

RE: ok sure
---
12-05-2012, 09:32 PM
RE: ok sure
(12-05-2012 08:22 PM)

Residualgrub Wrote:

(12-05-2012 08:18 PM)

John Nukette Wrote: Fagets everwhur



made me lol
---
User(s) browsing this thread: 1 Guest(s)